Say what? Political quotes of 2014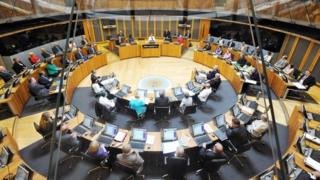 The Welsh political scene has provided us with some notable and intriguing quotes in 2014. Can you remember who said what, and why?
1 - "In Wales we do not hand out the begging bowl. We contributed greatly to the prosperity of the United Kingdom through coal, steel, tinplate and slate. Is it unreasonable therefore that we should receive a fair share of the pot?"
2 - "I tell you - when Offa's Dyke becomes the line between life and death, we are witnessing a national scandal."
3 - "Will you ask the question and take your hand off your hip please?"
4 - "He [my father] travelled down from mid Wales to south Wales, doing a bit of bare knuckle boxing and stuff like that, he used to work on the fairs as well. We come from, I'm quite happy to say this, quite a humble background."
5 - "The purpose of my request was simply to provide background information and I can offer my absolute assurance that at no time did I intend to use this information, neither for political gain nor for public use."
6 - "Last week Carwyn Jones said these criticisms weren't a war on Welsh Labour or the Welsh government, but a war on Wales as an entire nation. How dare he take cover behind the people he is meant to lead. What kind of leader does that?"
7 - "It is facile and assumes a kind of superiority that we decide who is Welsh and who is not Welsh."
8 - "That is nothing to do with professionalism - what it does have to do with is a population that is going through the roof chiefly because of open-door immigration and the fact that the M4 is not as navigable as it used to be."
9 - "I hear what you're saying. It's very good, in terms of the sounds you make."