Councils back plans to cut costs not services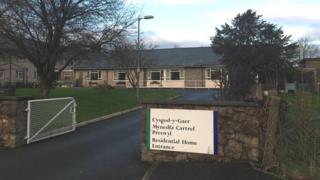 Leaders of three Welsh councils have backed plans to cut costs rather than services in the face of tight budgets.
Flintshire's cabinet has approved plans to save £16.4m a year, targeting management and internal costs to protect the "most critical" services.
In Denbighshire the cabinet has launched consultations on closing three care homes and a day centre.
Gwynedd's cabinet has approved plans for another £14.7m savings in three years to plug a £50m funding gap.
Public consulted
Earlier in December, Public Services Minister Leighton Andrews confirmed that the 22 Welsh councils would face cuts in their block grants of between 2.4% and 4.5% in 2015/16, totalling £146m.
Several councils - including Flintshire - have begun consultations with residents as they decide which services will face the brunt of the savings needed.
Before the Gwynedd cabinet meeting on Tuesday, its member for resources Peredur Jenkins said the council would prefer to look at ways of delivering services more cheaply than be forced to cut them.
He said: "We acknowledge that efficiency savings mean changes to the way the public receive services, but it is important to remember that every pound of such savings means a pound less of cuts to essential public services."
Meanwhile Anglesey council has invited local residents to comment on budget plans including "unprecedented" savings to tackle a funding gap of at least £4m a year.
It follows a meeting of the authority's ruling executive on Monday.