Libel trial told AM Mohammad Asghar 'biased against elections'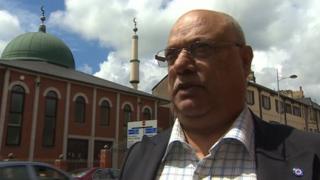 An assembly member has been accused of being "biased against democratic elections" at a libel trial in Cardiff.
Mohammad Asghar, Conservative AM for South Wales East, and Abdul Mujahid claim four men from Newport have wrongly accused them of criminality and financial impropriety.
It follows a dispute over the running of two mosques in Newport.
Manzoor Ahmad, Farzand Ali, Shokat Bhutt and Mohammad Ali Hayat deny libel.
Mr Asghar and Mr Mujahid say the allegations were made in a newsletter and in a file handed to the leader of the Welsh Conservatives, Andrew RT Davies.
They allege the defendants had wanted to remove Mr Mujahid from his role within the Jamia and Al Noor mosques.
'Respected figure'
Mr Asghar had been brought in to mediate in the dispute, but he claims the four men turned against him and made libellous allegations.
Mr Ahmad and Mr Ali say they wanted the mosques to become more democratic and accountable, but did not seek to remove Mr Mujahid.
Under cross-examination by William Bennett, representing Mr Asghar and Mr Mujahid, Mr Ali said Mr Asghar had been brought in to mediate because he was a "respected figure".
"We went to Mohammad Asghar because he was a member of the assembly," said Mr Ali.
"We thought he would understand democratic process.
"He is who he is because of democratic process, but he wouldn't support elections. I was flabbergasted."
Mr Bennett put it to Mr Ali that, at that point, he and the other defendants decided on a strategy to attack the AM's credibility.
Mr Ali denied that, saying: "I was not angry with him, I still speak to him."
"You started to spread lies", said Mr Bennett.
"That's completely untrue", replied Mr Ali.
'Brick wall'
Mr Ali told the court that after the mediation it was decided that the two sides would nominate people for election to senior posts, but that "did not come to pass".
Clare Kissin, representing Mr Ali and Mr Ahmad, asked Mr Ali why that was.
"Mohammad Asghar was biased against democratic elections," he said.
"Nothing was done, no nominations.
"We were banging our head against a brick wall."
Mr Ahmad, Mr Ali and Mr Butt deny any involvement in producing or distributing the newsletter, or the dossier that was handed to Andrew RT Davies.
Mr Hayat has been unable to attend the trial this week because of ill health.
All four men deny libel.