Carwyn Jones: Bridging the gap to deliver for Wales?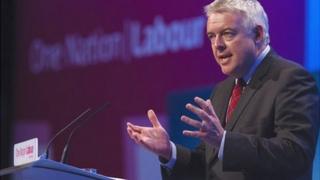 There is a Welsh proverb that ambitious politicians would do well to remember: "A fo ben, bid bont" - let he who would lead, be a bridge.
In other words, the boss has to bring people together. So, in 2014, his fifth year as first minister, did Carwyn Jones live up to that?
He tried to bring local councils together, by convincing them to merge.
In January, a report said the number of councils should fall from 22 to as few as 10.
It was written by a commission led by Paul Williams, a former high flying manager in the NHS, who said there was an "urgent" need for change.
By the Welsh government's own admission, the response from councils has been disappointing. They only submitted three merger proposals, one of which doesn't fit the map drawn up in the Williams report.
Ministers now hint at more widespread reform. We will get a better idea in the spring.
This matters to Carwyn Jones because of a pledge he made at the last election - to deliver.
'Life and death'
The schools system has slipped down international rankings. The NHS faces huge pressure. So if Mr Jones wants to argue at the next election that he has delivered, laying the foundations for better public services by reforming local government would be one way of doing it.
Far from coming together, in the politics of the NHS, Labour and its opponents remained miles apart.
David Cameron pricked ears in April when he told the Welsh Conservative conference: "When Offa's Dyke becomes the line between life and death, we are witnessing a national scandal."
"War on Wales," is how Carwyn Jones responded.
There has certainly been war of words, which intensified when the Daily Mail ran a series stories about the Welsh NHS in October.
Welsh politicians have been heard to complain they do not get enough coverage in London-based newspapers. But headlines about a "Welsh NHS crisis" are not what ministers had hoped for.
Of late there has been talk in the assembly of an all-party commission on health, but do not expect a truce any time soon.
The Welsh NHS will be an important part of the Conservatives' general election campaign for the whole of the UK in 2015.
'Piecemeal' devolution
In the spirit of togetherness, the first minister and other leaders in Cardiff Bay united in a call for further devolution following Scotland's independence referendum.
Meanwhile, in Westminster, Welsh secretary Stephen Crabb is leading cross-party talks. And if any political party should propose more power for the assembly then he says "nothing is left off the table".
Parliament signed off more devolution, over tax, this year. But Carwyn Jones has said many times in 2014 that he does not want income tax powers unless Westminster tops up Welsh funding.
His biggest complaint? That the Welsh government is short-changed by the Barnett formula which sets its budget.
But despite his best efforts, Barnett will not budge.
His own party committed to keeping it during the Scottish independence campaign, even though the Welsh government has spent years complaining about unfair funding.
Mr Jones has also complained about "piecemeal" devolution to Cardiff, Edinburgh and Belfast. But his plea to sort it all out in a single lasting solution remains some way off.
So at the end of a year when Carwyn Jones might have hoped to bridge divides on three big issues - councils, the NHS and devolution - some significant rifts remain very much in evidence.