UKIP candidate's donkey rape story slammed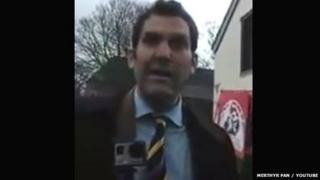 The suitability of a UKIP parliamentary candidate who gave an "inappropriate" answer to a question about homosexuality has been questioned.
Cardiff South and Penarth candidate John Rees-Evans told a story about a male donkey raping his stallion during an exchange which was filmed and posted online.
The episode showed a "sinister side" to UKIP, Labour said.
But Mr Rees-Evans said Labour had "manufactured a controversy".
He gave the animal anecdote after he was asked by anti-UKIP protestors to respond to comments - apparently made by another of the party's candidates - that "some homosexuals prefer sex with animals".
In the video footage, which has been posted on YouTube, he says: "I've witnessed that", before telling the donkey story.
He later told BBC Wales: "I can't see how anyone on earth could perceive how I intended to offend anyone by saying that."
Mr Rees-Evans is standing for party at the general election in the Labour-held seat of Cardiff South and Penarth.
'Strange comment'
He said he had never heard the quote about homosexuality and animals until it was read to him during the encounter outside a UKIP campaign office in Merthyr Tydfil.
"To be honest it's difficult to give a sensible answer to such a strange comment," he said.
Mr Rees-Evans said he had also opened his own campaign shop in Penarth because he was "pretty sure there are many people who believe that UKIP espouse all sorts of weird and wonderful ideas that we don't actually".
Labour MP for Cardiff South and Penarth Stephen Doughty said: "You might first think this was a clip from an episode of [TV show] 'The Thick Of It' but the bizarre and inappropriate comments show up the sinister side to this nasty party.
"UKIP's divisive dog whistle politics have no place in Wales.
"These comments from Mr Rees-Evans put his suitability as a parliamentary candidate into serious question."