Foundation Phase fails to reduce inequality, says report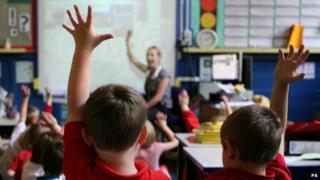 A flagship Welsh government education policy has failed to reduce educational inequality between pupils from poorer families and those better off, a report for ministers has concluded.
The review found attendance improved in schools where the Foundation Phase was introduced, but said the improvements "cannot be entirely conclusive".
The scheme, for three to seven-year-old pupils, emphasises "learning by doing".
It seeks to encourage children to find different ways to solve problems.
Ministers said they were committed to "closing the inequalities gap" and "determined to use all the evidence available to us to keep improving the Foundation Phase".