Wales on agenda as cabinet meets in Downing Street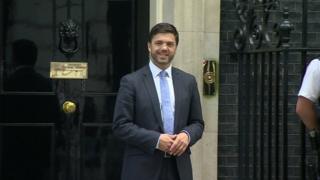 Cabinet meetings may be secret but occasionally we get an idea of what was discussed without having to wait 20 or 30 years for the release of the official papers.
This morning, I understand, the coalition discussed Wales during its weekly meeting in Downing Street. Welsh Secretary Stephen Crabb briefed colleagues on the Welsh economic picture. He told colleagues how the Welsh economy had grown faster than any other devolved nation or region of the UK (other than London) since 2010 and faster than any other part of the country last year.
A source tells me Mr Crabb also highlighted his "economic vision" speech last week - the one in which he declared: "The constitution is not the defining issue in Welsh politics". (Discuss).
It may not be the defining issue in Welsh politics, but he did update colleagues on progress towards a cross-party agreement on further devolution to Wales ahead of his self-imposed St David's Day deadline.
You may be surprised to learn, given recent exchanges, that the NHS west of Offa's Dyke didn't feature in his presentation.
It did come up during health questions in the Commons this morning, with Monmouth Tory MP David Davies complaining that only 60% of ambulances in Wales meet the target response time, compared with 75% in England.
He asked Health Secretary Jeremy Hunt: "Will the Minister tell the house why ambulance response times are so much better in England than in the area of the United Kingdom run by the Labour party?"
Jeremy Hunt replied: "What is so disappointing about the health debate is that Labour MPs tour TV studios trying to whip up a sense of crisis in the NHS in England, and then deny that things are even worse in Wales. Services are better in England because we have put more money on to the front line and less into management."
His Liberal Democrat ministerial colleague Norman Lamb joined in during exchanges on accident and emergency departments, telling MPs: "The performances of A and E, ambulances and people waiting for hospital are considerably better in England than they are in Wales, and the opposition need to recognise that."
With only 113 days until polling day, it's not even half-time in this game of political football.