William Hague returns to 'land of my fathers-in-law'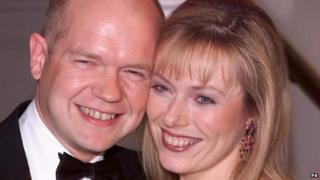 He often refers to Wales as "the land of my fathers-in-law". Now William Hague is going to live there.
Mr Hague and his wife Ffion have bought Cyfronydd Hall, near Welshpool in Montgomeryshire, which was for sale with an asking price of £2.5m.
Mr Hague told the Montgomeryshire County Times: "We have had our eyes on Cyfronydd Hall for some time.
"Ffion and I are looking forward to having a home in Wales for the first time and to living in such a beautiful part of the country."
Their new home has 10 bedrooms and 10 bathrooms and comes with 12.7 across of land.
Mr Hague met his wife when he was secretary of state for Wales and she worked in his private office.
Mr Hague said: "Ffion is very excited that we will be living just over the hill from Meifod where the National Eisteddfod will be held later this year, we are both looking forward to that."
He said his new home was "an ideal place to write books". Both the Hagues are published authors.
He later told the House of Commons - responding to the congratulations of Labour MP Kevin Brennan: "My wife and I are looking forward to spending a good deal of time in Wales after the general election."
Mr Hague is standing down as an MP in May but is expected on the campaign trail in Wales. I suspect his views on Labour's proposed "mansion tax" will have hardened by then as he will be one of the few property owners in Wales to pay it.