Stephen Crabb call to 'work together' against extremism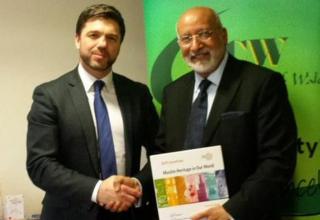 "Support and partnership" to tackle extremism has been promised to Muslim and Jewish leaders by Welsh Secretary Stephen Crabb.
He met Muslim Council of Wales leaders and Rabbi Michael Rose in Cardiff.
Thursday's meetings - including a visit to police at the Wales Extremism and Counter Terrorism Unit - were planned before the recent attacks in Paris.
Mr Crabb said such "poisonous extremist ideology" was "completely inconsistent with Welsh freedom values".
"The abhorrent attacks in Paris are a reminder of just how close to home the terror threat is," he said.
'Indiscriminate'
"Two weeks ago I, like thousands of people from across Wales, stood shoulder to shoulder with leaders from the Muslim and Jewish communities outside the Senedd to make clear that the views and actions of these terrorist extremists are completely inconsistent with Welsh freedom values."
Mr Crabb said the terrorists were "indiscriminate", with their victims including Muslims "just as much" as people from other faiths.
"I know that Muslim parents across Wales are concerned about how easily this poisonous ideology can be downloaded from the internet and that is why it is so important that we work together to tackle this threat," he added.
"We all have a responsibility to prevent radicalisation and the UK government is reaching out to communities to offer support and partnership to defeat violence and extremism."