Tax power devolution 'caution' warning by Peter Hain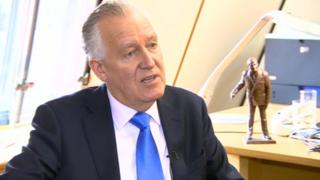 Plans for Wales to get more tax raising powers should be approached with caution, says a former Welsh Secretary.
Peter Hain warned that Conservatives backed the idea because they wanted to "offload government to everybody else".
But the Neath MP said he was in favour of devolving some taxes, including stamp duty and air passenger duty.
He also wants the Welsh government to receive a funding "top-up" from Westminster, because the formula which decides its budget "penalised" Wales.
He told BBC Sunday Politics Wales the Barnett formula meant that because "Scotland benefits disproportionately, Wales is penalised disproportionately".
Mr Hain, who stands down from Parliament in May, said that on income tax, VAT and "the bulk of the tax that is raised to fund our lives in Wales, we are in massive deficit in Wales compared with the tax revenues we generate".
"It's about £10bn, that's getting on for three quarters of the Welsh government's budget, just be very careful about going down this route," he warned.
'Confront austerity'
Mr Hain, who spells out his argument in a new book, said he would like to see "more radical" thinking on public spending, which is set to be one of the key battlegrounds in May's general election.
"I think we have to confront and defeat this idea that austerity is the only way forward because it isn't and I think that's the argument I will continue to make," he argued.
Sunday Politics Wales can be seen on BBC One Wales at 11:00 GMT on Sunday, 25 January.