Row over state of NHS a political pantomime, says Plaid Cymru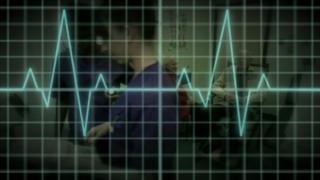 An ongoing row between Labour and Conservative politicians over the NHS in Wales is diverting attention from improving patient care, say opponents.
Plaid Cymru said a report about the challenges facing the NHS in Wales and comparisons with England showed action was needed on both sides of the border.
Meanwhile, the Welsh Liberal Democrats said it was "patients, rather politics that we need to be concentrating on".
Comparisons were difficult between the Welsh and English NHS, said the report.
A Welsh government spokesman said the study by Nigel Edwards, chief executive of health research body Nuffield Trust, showed there were areas where "improvements must still be made".
He added that the NHS was in a better state since devolution, saying that the reported "highlights once again that Wales spends more per head on health when compared to England".
But Conservative Shadow Health Minister Darren Millar said the "authoritative report clearly shows... the Welsh NHS is underperforming against key measurements compared to health services in other parts of the UK".
He added: "This report concludes that Labour cut Welsh NHS budgets by 4.3% in real terms, while health spending rose in other parts of the UK."
'Political pantomime'
Kirsty Williams, leader of the Welsh Liberal Democrats, said the report "reiterates that Welsh patients do have grounds for real concern about the longer waiting times they face.
"Whichever side of the debate you're on, it's clear that there are significant challenges and pressures in our health services that need to be dealt with."
Meanwhile, a separate Wales Audit Office (WAO) report found 11% of patients were waiting longer than the 26-week target for non-emergency treatment in March 2014.
Plaid Cymru health spokeswoman Elin Jones said: "Rather than get involved in a political pantomime, Plaid Cymru is focused on solutions to the problems facing the NHS," she said.
"That's why we have outlined plans to recruit 1,000 doctors, more nurses, and more paramedics," she said, referring to a policy proposal criticised by First Minister Carwyn Jones.
Referring to the Nuffield Trust report, a Welsh government spokesman said: "It shows there has been improved performance in all the health services of the UK in recent years, but all nations face increasing demand.
"The NHS in Wales is performing better now than it was in 1999, more people are being seen every day, more people are living longer thanks to the help they receive."