Welsh people in England should consider voting Green, says Plaid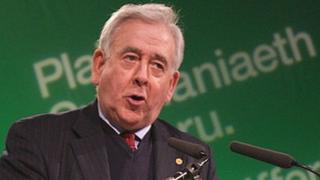 Plaid Cymru has called on Welsh people voting in England to "seriously consider" voting for the Green Party at May's general election.
Ex-Plaid leader Lord Dafydd Wigley said he wanted to "maximise the impact" of his party, the Greens and the Scottish National Party at Westminister.
He said polls suggest the parties are likely to hold the balance of power.
Lord Wigley, Plaid's general election co-ordinator, said they shared a "common approach" on key issues.
Wales Green Party leader Pippa Bartolotti said the Plaid peer knew "Green policies and Green politics are essential" to "pull away from austerity and turn the agenda towards protecting and helping the next generation".