ASW steel workers who lost pensions 'hard done by'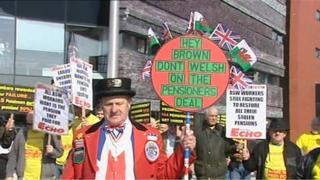 A thousand former steelworkers fighting for compensation for lost pensions have been "hard done by", MPs have heard.
Tory MP Gordon Henderson said ex-workers of ASW in Cardiff, Belfast and Sheerness were let down by a scheme created to top up their pensions after the firm went bust in 2002.
He urged UK ministers to reconsider ensuring they received the inflation-proof pensions "for which they paid".
The government said the state of the public finances made this unlikely.
'Injustice'
"ASW pensioners have never given up their fight for justice," the Sittingbourne and Sheppey MP told a Westminster Hall debate on Tuesday.
"Working with the Pensions Action Group, they have campaigned tirelessly, lobbying MPs, demonstrating at party conferences and staging protest marches."
Campaigners have claimed that the promised 90% compensation for lost pensions would be cut by the effects of inflation.
Cardiff North Conservative MP Jonathan Evans said politicians had promised it was "an injustice that would be corrected", and the lack of action "undermines" the government's record on pensions.
Work and Pensions Minister Mark Harper said there was a limit to the amount of support taxpayers could make, and the things that Mr Henderson requested, "I fear, will not be able to be delivered given the financial circumstances that we still face in the public finances".