Bank levy to fund Labour's free childcare pledge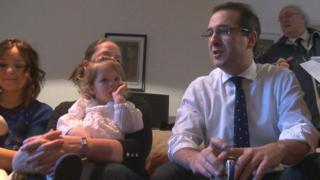 Working parents of three and four-year-olds in Wales will get 10 hours extra free childcare a week if Labour wins May's election, the party has said.
It would be funded through UK Labour's pledge to increase the bank levy, which would provide £40m for Wales.
Shadow Welsh Secretary Owen Smith said the extra childcare was "the difference between work and welfare" for many.
All three and four-year-olds in Wales are currently entitled to 10 hours per week of early years education.
It is mainly provided in nurseries.
Labour said the Welsh government would consult on how to provide the extra childcare, which would be available where all parents are working.
Launching the general election pledge with a group of young mothers in Cardiff, Mr Smith said: "At a time when resources are tight and families are under pressure it is only right that we do all we can to help families and increase childcare provision."