Wales NHS commission idea wins Labour and Lib Dems support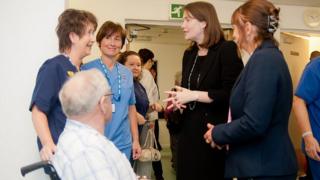 The idea of a commission to examine the future of the NHS in Wales has been agreed in principle by the Welsh government and the Liberal Democrats.
Health Minister Mark Drakeford has proposed a 12-month commission beginning in April with an independent chair and cross-party representation.
Welsh Lib Dem leader Kirsty Williams has accepted the offer and urged the Tories and Plaid Cymru to take part.
The Conservatives said it should not be a "talking shop full of politicians".
'Honest and realistic'
In a letter to Ms Williams sent on Wednesday, Mr Drakeford outlined the points a commission should look at.
It will:
Identify the key issues facing the NHS highlighted in reports such as the Wales Audit Office study of waiting times.
Make an "honest and realistic assessment" of what can be achieved
Examine options for the way forward and recommend the shape of a future Welsh NHS
Medical staff and the general public would also be invited to take part as well as figures from the four parties in the assembly.
Confirming the offer of a commission, Mr Drakeford said: "Discussions about the long-term future of the Welsh NHS should sit outside the knockabout of day-to-day party politics."
Welcoming the offer, Ms Williams said: "The Welsh Liberal Democrats remain determined to put patients first, rather than narrow-minded politics. Only then can we start to see real improvement in our NHS,"
The Conservatives' Shadow Health Minister Darren Millar said his party wanted an independent public inquiry but would examine the commission's terms of reference when it received them.
"It is absolutely vital that this does not become a simple talking shop full of politicians that achieves little else other than covering Labour's clear mistakes and failures," he added.
Plaid Cymru health spokesperson Elin Jones said the party had heard nothing from Mr Drakeford about a commission, accusing him of arranging a "two-party stitch-up" with the Liberal Democrats.