Police helicopter bases at Pembrey and Rhuddlan to close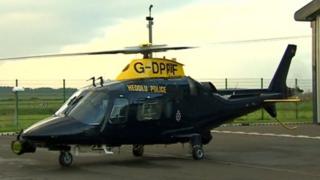 Two police helicopter bases in Wales are to close as a result of cuts by the National Police Air Service.
Air support from Rhuddlan, Denbighshire, will end in September, and from Pembrey, Carmarthenshire, on New Year's Day 2016.
Helicopter cover will continue from St Athan, Vale of Glamorgan, and Hawarden, Flintshire, and bases in England.
Dyfed-Powys police and crime commissioner Christopher Salmon said it was "deeply disappointing".
He said the force's agreement to join the service - announced in November - "included the retention of Pembrey as an operating base".
"I will fight to ensure the best possible service for the people of Dyfed-Powys," he added.
'Improve efficiency'
The National Police Air Service (NPAS) announced on Friday it was cutting the number of bases to 15 across England and Wales.
It said it faced budget cuts of 14% in the next three years on top of 23% savings already made.
Chief Superintendent Ian Whitehouse of NPAS said: "This move will help improve the efficiency and effectiveness of the service and means that every base supports police forces 24 hours a day."
North Wales police and crime commissioner Winston Roddick said he was seeking reassurance that "the integrity of the air cover for North Wales will be maintained and that a first class service will continue to be provided" from Hawarden.