Welsh government's well-being bill has 'no clear purpose'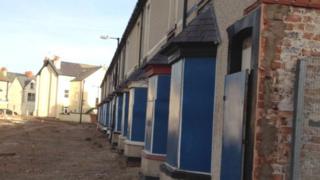 A law aimed at improving the lives of people in Wales has been criticised as having no "clear purpose".
Lee Waters, director of the Institute of Welsh Affairs, accused ministers of "making-up" the Well-being of Future Generations Bill "as they go along".
A leading campaigner for full law-making powers, Mr Waters claimed a lot could be achieved without legislation.
The Welsh government said the "ground-breaking bill" was putting Wales at the "forefront of sustainable development".
'Depth of thought'
Mr Waters said the bill was "a case study of what's wrong with the way we're making laws in Wales".
"The reason we've had a slight farrago in the assembly is that there's not enough depth of thought behind this bill and what it's trying to do," he said.
"We've ended up with a bill that doesn't really know what it's about."
In February, the assembly's environment committee voted to drop large parts of the bill but rejected sections intended to replace them.
The committee had previously called for the bill to be rewritten for the sake of clarity and effectiveness.
A Welsh government spokesperson said: "We are putting Wales at the forefront of sustainable development through this ground breaking bill", adding that "our consensual approach has built a better bill".
It will be discussed by the full assembly in the Senedd on Tuesday.