Apprenticeships 'opportunity' hailed by minister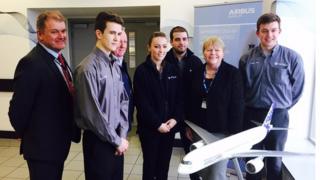 Apprenticeships offer a "fantastic opportunity" for young people to boost their job prospects, a Wales Office minister has said.
Lib Dem peer Baroness Randerson met trainees during a tour of the Airbus factory in Broughton, Flintshire.
The UK government said it had developed more than 2m apprenticeships since 2010.
It has abolished National Insurance contributions for firms hiring trainees under 25 to boost the numbers further.
"Employers also tell us that taking on an apprentice has benefited their business," said Ms Randerson.
"That's why as a government we are right behind apprenticeships and have made it easier for employers to take on more young trainees."