Election 2015: Harriet Harman to ignore 'stalemate' warning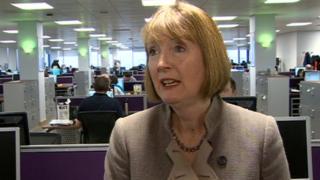 Labour's deputy leader has said the party will ignore Lord Mandelson's warning that they will fall short of an outright majority in May's election.
On a visit to Cardiff, Harriet Harman said it was wrong to "second-guess the voters".
Lord Mandelson, a former Labour cabinet minister, has predicted a "stalemate hung parliament".
Ms Harman told BBC Wales said Labour was "campaigning to win and we think we've got every chance of winning".
"So I think people commentating saying we are not going to win, well, we are going to ignore that and press on," she added.