UKIP Wales 'unanimously' behind Farage, says party official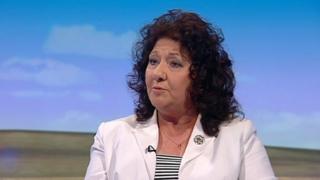 A senior UKIP Wales official has said the Welsh party is "unanimously" behind Nigel Farage.
Caroline Jones - who sits on the party's UK National Executive Committee - said the row about Mr Farage's leadership was "a spat that has been put to bed".
She said the attack on Mr Farage from election campaign organiser Patrick O'Flynn was totally unjustified.
"Sometimes post-election people say things that they don't mean," she said.
Speaking to Sunday Politics Wales, she added: "Elections can be stressful, but it's now time to put these remarks to bed and move on."
Ms Jones said UKIP did very well at the general election and she was looking forward to building on that performance for next year's assembly elections.
Although UKIP did not win any seats in Wales, it did get the third largest share of the vote here.