Hold EU referendum as late as possible, says ex-minister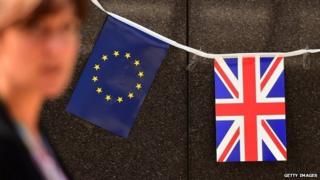 A referendum on EU membership should take place towards the end of 2017, a former Tory Welsh Secretary has said.
David Jones told BBC Wales it should be held as late as possible, to ensure "a long and thorough debate".
Some leading Welsh politicians have expressed fears the vote would overshadow the assembly election if it is held on the same day, in May 2016.
David Cameron has said the referendum's timing should be determined by the renegotiation of Britain's membership.
At Prime Minister's Questions on Wednesday, Mr Cameron said: "I don't myself think it should be determined by the timing of other elections."
He has pledged to obtain a "better deal" for the UK in Europe in advance of the vote, which he has promised to hold by the end of 2017.
On Tuesday, MPs overwhelmingly backed plans for a referendum, allowing the legislation to move to the next stage of its progress through Parliament.
Mr Jones said he hoped the UK's relationship with the EU could be a looser one, with the UK gaining more control over borders.
Speaking on The Wales Report with Huw Edwards, he said: "Most important of all we need to end the commitment to ever closer union, which I think is generally regarded as unacceptable, not just by Conservatives, but by people across all parties."
Asked if the debate over Europe could exacerbate divisions within his party, Mr Jones acknowledged that it could pose problems for the Conservatives.
"I think that referendums always are bumpy rides ... yes, of course there are going to be passions on both sides.
"But it's important to have that debate.
"I think it should be a long and thorough debate ... because what we want at the end of this process is for the European issue to be put to bed for once and for all."
The Wales Report with Huw Edwards is on BBC One Wales at 22:35 BST on Wednesday 10 June.