MP has 'no regrets' over Jeremy Corbyn nomination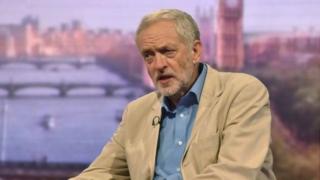 An MP who nominated Jeremy Corbyn as a candidate for the Labour Party leadership contest has said he does not regret his decision.
Huw Irranca-Davies, MP for Ogmore, put Mr Corbyn's name forward despite admitting he would not vote for him and did not want him to win.
He told BBC Radio Wales that Labour does not have "one voice" and candidates reflect a range of views.
"We're a broad church and I'm proud of that," he said.
"I'm glad we've got a lively debate, I'm actually with my (constituency) party on this, I think Yvette (Cooper) is a very strong candidate, but so are others as well, but we are not a cult, we are a broad church - we need to have these broad voices."
Mr Irranca-Davies said Mr Corbyn has brought clarity and passion to the debate and other candidates must also step up to the mark.
Mr Corbyn's leadership rivals are Andy Burnham, Ms Cooper and Liz Kendall.
Ballot papers will be sent out on 14 August and voting can take place by post or online.
Votes must be cast by 10 September and the result will be announced two days later.