Wales' chief medical officer Dr Ruth Hussey to retire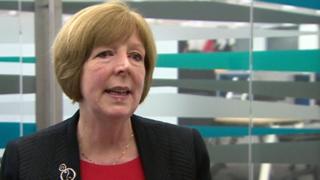 Wales' chief medical officer Dr Ruth Hussey will retire in spring next year, after nearly four years in the job.
During her time in the post, Dr Hussey oversaw the response to the Swansea measles epidemic and work to prepare Wales for possible future health threats, such as an Ebola outbreak.
Paying tribute, Health Minister Mark Drakeford said he was "very grateful" for the advice she had given.
The chief executive of NHS Wales said working with her was a "privilege".
Dr Andrew Goodall added that Dr Hussey was "passionate about improving health and healthcare, especially improving outcomes for the Welsh population and addressing the role that poverty can play in creating ill health".