Welsh Labour must be 'fiercely pro-business', says Jones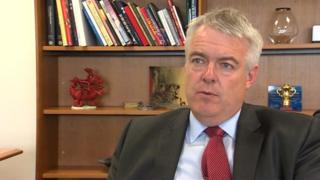 Welsh Labour and the Welsh government must be "fiercely pro-business" if Wales is to prosper, First Minister Carwyn Jones has said.
In a lecture in Merthyr, he said he wanted a "genuine social partnership" of business, government and workers.
Some in Welsh Labour fear party leader Jeremy Corbyn will make Labour more left-wing and hostile to private firms.
Mr Corbyn has suggested introducing a maximum wage, higher taxes and wants energy and rail firms nationalised.
'Pulling together'
Since Mr Corbyn became leader two weeks ago, the first minister has been keen to underline his own role as leader of the party in Wales as Labour prepares to defend its record in government at the 2016 assembly election.
Giving the annual memorial lecture on Friday to Keir Hardie, Labour's first MP, Mr Jones said: "I firmly believe that for our communities to succeed, the party and government I lead can be nothing but fiercely pro-business.
"I take the view that essentially, we all want the same thing for Wales - a prosperous country, with good jobs for local people - decent services, a better future for our children and grandchildren.
"Wales pulling together - through this genuine social partnership - business, government and workers together."
He cited the "tensions" that come with trying to keep the balance between those three elements - including plans for a £1bn M4 relief road south of Newport, and trade talks with countries who "don't share our democratic values".
On re-organising hospital services - an issue that's prompted protests around Wales - he said ministers needed to be "honest with people, and saying it makes no sense - medical or financial - for every hospital to try and do everything for everyone".
"To create specialisms and keep our NHS alive, we need to create centres of excellence, not a proliferation of mediocrity."
Referring to Labour losses in Wales at the general election earlier in the year, he said: "It has never been more important for us to demonstrate the success of our social partnership approach in Wales.
"We must learn why voters in Gower and Vale of Clwyd left us, but we should not be distracted from our values."