Tidal lagoon energy review to give 'clarity'
An independent review of tidal lagoon energy will examine its feasibility, the UK government has said, amid delays to a £1bn project in Swansea.
Backers have warned the scheme could be at risk unless ministers agree the level of subsidy within weeks.
David Cameron fuelled fears in January when he said his enthusiasm for tidal energy was "reducing".
Ministers said a decision on the lagoon was expected in the autumn, after the review was published.
Announcing the review on Wednesday, Energy Minister Lord Bourne said it was "exciting, but as yet an untested technology".
The Swansea lagoon would be the first of six around Britain's coastline, which it is claimed could generate 8% of the UK's electricity, with a life cycle of 120 years.
Building work on the lagoon in Swansea has already been delayed by a year, after negotiations stalled over how much public money it would need.
'Clarity'
"I want to better understand whether tidal lagoons can be cost effective, and what their impact on bills will be - both today and in the longer term," Lord Bourne said on Wednesday.
"This review will help give us that clarity so we can determine what role tidal lagoons could have as part of our plans to provide secure, clean and affordable energy for families and businesses across the country."
The review, to start in spring, will look at:
Cost effectiveness of tidal lagoon power as part of the UK energy mix
Potential scale of opportunities in the UK and globally, including the supply chain
Ways of financing tidal lagoons
What size the first such project should be
Scope for competition in delivering lagoons
Mark Shorrock, chief executive of Tidal Lagoon Swansea Bay, welcomed the review as "a huge step" from the UK government and "a clear signal that it sees potential advantage for the UK energy consumer in very long-dated tidal energy infrastructure assets".
But he urged ministers not to let the review delay any deal on the Swansea project, which he said was needed within six weeks.
"To unlock the potential of tidal lagoon power, we need investment in a demonstration project that will grow the supply chain and build investor confidence that an exceptionally long term project can go forward in today's UK electricity market," he said.
However, a spokesman for the Department of Energy and Climate Change said no final decision would be made until the outcome of the review was made public, with a decision expected by the autumn.
'Cruel stunt'
A spokesman for Welsh ministers said they were "disappointed this review will mean the decision on the Swansea Bay Tidal Lagoon will not be taken quickly".
The spokesman added: "It is important there is strong engagement with the Welsh government and Welsh stakeholders during the review.
"We would like to see the review completed with pace to ensure action can be taken as soon as possible to exploit Wales' huge potential for marine energy."
Peter Black, Liberal Democrat AM for South Wales West, claimed the review showed the Conservatives did not care about green energy and were "doing all they can to kick any attempt to grow a new green economy in Wales into the long grass".
Swansea East Labour MP Carolyn Harris called the review a "cruel stunt", accusing UK ministers of playing with the economic development of Swansea.
"I fear that the answer could well be 'no' and they don't want to say that ahead of the assembly election," she said.
Plaid Cymru environment spokesman Llyr Gruffydd said UK ministers' scepticism on green technology was "hampering our potential to take the action we need to meet our targets and protect our environment for future generations".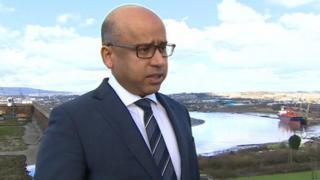 Sanjeev Gupta, executive chairman of the Liberty Group, is an investor in the project and said the case for tidal energy was "compelling" and "overwhelming".
He told BBC Wales he was convinced the technology would be developed elsewhere, if the UK government did not press ahead.
Mr Gupta said Swansea's tidal lagoon was needed because it would lead to larger, cheaper lagoons in places such as Cardiff and Newport and create a whole industry.
Although the first lagoon was expensive, over 120 years it was comparable to the new Hinkley Point power station.
"If the Government is supporting Hinkley we believe it should support Swansea, because that then leads to the larger lagoons which are infinitely cheaper," he said.
"Ultimately, once it's properly analysed and looked at it's too compelling for anyone to ignore.
"The UK Government is committed to decarbonising power in the UK. Coal is scheduled to come off line by 2025, there needs to be replacement technologies which bring sustainable, cheap power and tidal lagoons are one. I've invested in it because I'm convinced it's the way to go."

Analysis: Sarah Dickins, BBC Wales economics correspondent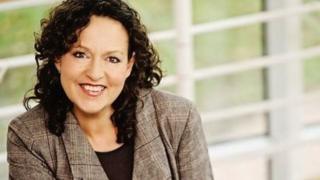 The realisation that an agreement about the Swansea tidal lagoon will now have to wait until after an independent review will have come as a massive shock .
Tidal Lagoon Power, and a host of supply companies, many in Wales, had been hoping to start working for the project later this Spring. It now looks as if, at best, it could be delayed by another year.
The impact of the review goes further than just those involved in planning the Swansea project.
Those who lost their work in Pembrokeshire as oil contracted and those in steel who are fearing the impact of job losses at Tata in Port Talbot, had seen tidal power as a new industry for Wales and the UK . They had pinned their hopes on it providing jobs and prosperity.
The debate within the UK Government has been about money: the cost of a guaranteed price for electricity versus a new industry with jobs, know how and a relatively local supply chain.
The announcement raises questions about what happens next.
The chief executive of Tidal Lagoon Power has made it very clear that the Swansea project is ready to start.
It has planning permission, a supply chain and £200m from equity sponsors.
But he is equally clear that company needs to conclude its negotiations with the UK Government about a strike price - or guaranteed price for the electricity generated - within six weeks.
A far cry from the six months that the review is expected to take .
The question is whether Tidal Lagoon Power will hold tight, stay with its plans for six UK tidal lagoons, four of them in Wales, or whether there will enough enthusiasm in other countries to develop its ground breaking projects elsewhere.
Already we know that the Gupta family, which owns Liberty Steel and Simec power station both in Newport, has taken a significant share in Tidal Lagoon Power and that they are already talking about developing a scheme similar to the Swansea project in Gujarat in India.