Wales '£14.6bn in the red', new research says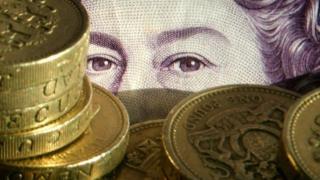 Wales was effectively in the red to the tune of £14.6bn last year, according to new research published on Monday.
Experts at Cardiff University's Wales Governance Centre have assessed the level of Welsh public spending - by the UK and Welsh governments - and how much is raised from taxes in Wales.
Spending was £38bn in the 2014-15 financial year, but money raised from taxes was only £23.4bn.
The deficit represents around 23.9% of the size of the Welsh economy, or GDP.
The equivalent UK figure is 4.9%, while the estimate for Scotland is 9.7%.
The authors said the findings "laid bare the scale of the challenge" as the Welsh Government prepares to take on additional powers.
Council tax and business rates are already devolved, with stamp duty and landfill tax following in April 2018.
Control over 10p in the pound of income tax is due to follow, although no date has been set for this yet. Taken together these taxes would amount to around £4bn of annual revenue.
'Scale of the challenge'
Ed Poole, a lecturer at the Wales Governance Centre at Cardiff University and one of the authors of the report. said: "At around 24% of estimated GDP, Wales' £14.7bn net fiscal deficit is a very substantial gap between the revenues raised in Wales and public spending for Wales.
"There is no evidence that the gap between Wales and the rest of the UK is being bridged.
"The figures lay bare the scale of the challenge facing Wales as public services increasingly come to rely on own-sourced taxes such as the new Welsh rates of income tax and stamp duty."
The Scottish Government publishes estimates for Scotland's fiscal position each year, with the results being pored over by politicians and cited in arguments over whether the country could be independent.
No similar exercise has been carried out for Wales since devolution, although estimates were made by the Silk Commission in 2012 and the Holtham Commission in 2009.
HM Revenue and Customs now publishes figures for the taxes it collects in Wales each year, and the Office for Budget Responsibility publishes forecasts for how much could be raised in future years from devolved taxes.
The Welsh Government said the report was broadly consistent with statistics produced by the UK government and others.
A spokesman added: " It is important to note that public expenditure and revenues per head in Wales are similar to those parts of the UK that have the same kind of demographic and economic characteristics."
Plaid Cymru said the figures showed the Labour government's "lack of ambition" was "shackling the Welsh economy".