MP recalls 'delusional, masochistic' Welsh campaign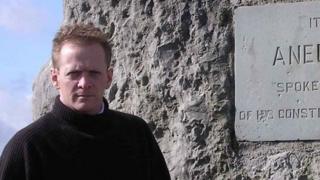 I first met the Conservative MP Phillip Lee outside a cafe in Tredegar more than 10 years ago. He had a few of his party activists waving Conservative placards as the then Home Secretary David Blunkett arrived to support the Labour campaign.
He was a bit more visible than the usual Conservative candidate in those parts - and, unusually, didn't try to pretend that he got a great response on the doorsteps.
Dr Lee won 816 votes and lost his deposit, although his performance didn't hold back his political career. He's been MP for the safe Tory seat of Bracknell since 2010.
He was chosen to second the motion on the Queen's Speech in the House of Commons, a role that is sometimes given to an upwardly-mobile backbencher, who is required to deliver a speech with humour.
So it was no surprise that Dr Lee chose to reflect on his time in Blaenau Gwent, telling MPs: "Sporting a blue rosette outside the Tredegar Kwik Save takes a certain kind of character. Mostly delusional, perhaps even masochistic."
He added: "I was however able to comfort myself with the fact that my modest 816 votes nevertheless represented the biggest swing to the Conservative Party of any candidate in Wales that night.
"In retrospect, I should have taken more notice of the lady in Abertillery Market who, when I asked her why she supported Labour, she replied 'don't you get complicated with me'."
'Life chances'
The contents of the speech itself are reported here. According to Welsh Secretary Alun Cairns it "sets out a programme of reform that will break down the barriers to opportunity and extend life chances to all". Of the 21 proposed new laws, most will affect Wales in some way.
The return of the Wales Bill is covered (with my analysis) here. Do have your say in the usual way.
I have covered more than 25 state openings and can't recall another that has been so overshadowed by other political events. The Conservatives tried but failed to stage a truce on the EU referendum for the day.
As if to confirm the UK government's priorities, after the speech and a few brief interviews Mr Cairns headed west ahead of a speech on Europe he will deliver in Swansea on Thursday.