Neil Hamilton 'reinforced UKIP stereotypes', says Nathan Gill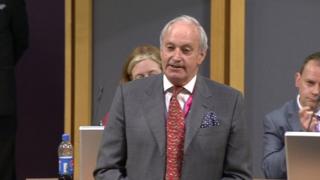 UKIP group leader Neil Hamilton reinforced stereotypes about the party when he described two senior female AMs as "political concubines" in Carwyn Jones' "harem", his colleague has said.
Nathan Gill, UKIP's leader in Wales, said it was not the language to use.
He said the party's seven newly-elected AMs had to be "professional".
Mr Hamilton said he had no regrets for the way he described Lib Dem AM Kirsty Williams and Plaid Cymru leader Leanne Wood in his maiden Senedd speech.
Ms Williams accused Mr Hamilton of using "blatant sexist language" while Presiding Officer Elin Jones called on AMs to be respectful.
North Wales AM Mr Gill, who was beaten to the leadership of the assembly group by the former Conservative MP, said UKIP wanted to "shake up politics", but Mr Hamilton's jibe was was not the way to do it.
"We need to show that when we're elected we're professional and we do the job properly and we do the job for the benefit of the people who have voted for us," he told BBC Radio Wales' Sunday Supplement.
"The time has come to re-emphasise and enforce the positive image of UKIP to the men and women who desperately want to vote for us but we keep on giving them reasons not to."
When asked by Sunday Supplement presenter Vaughan Roderick whether Mr Hamilton had reinforced the stereotypes of UKIP that they had been trying to remove, Mr Gill answered: "I think so, yes. I think it was unnecessary."
After Ms Wood and Ms Williams backed Mr Jones to be reinstated as first minister, Mr Hamilton said he regretted the role Plaid Cymru had played and added that Ms Williams had "managed to prop up this tottering administration".
He added: "So I'm afraid that these two ladies have just made themselves political concubines in Carwyn's hareem. What a gruesome prospect that must be."