Tory MP 'very disappointed' by Welsh powers plan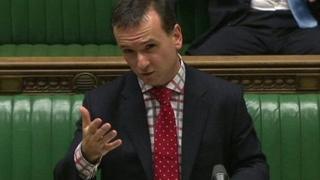 It is less than a week since Alun Cairns promised to put a definitive end to the "outdated arguments" over where power lies in the age of devolution. So how's that one coming along?
MPs hold their first debate on the new Wales Bill on Tuesday, but even before the Bill receives its second reading it is being criticised from both ends of the devolution spectrum.
Ahead of that debate, Plaid Cymru are trying to transfer responsibility for policing to Cardiff Bay through the Policing and Crime Bill (despite Mr Cairns's claim it's already devolved to police and crime commissioners). Plaid may have SNP support but their amendment stands no chance of becoming law without Labour support.
The signs are that Labour MPs will abstain, as is traditional on Plaid Cymru amendments. Plaid Cymru will, as is equally traditional, probably put out a press release condemning Labour's refusal to support a transfer of power their own first minister wants to happen.
A Labour source said: "Plaid's amendment bizarrely seeks to amend legislation that will soon be superseded by the new Wales Bill.
"The Wales Bill is the appropriate forum to consider which powers should be devolved to the Welsh Assembly and we look forward to debating that Bill tomorrow."
I'm told Labour tried to persuade Plaid Cymru to withdraw their amendment in the hope of joining forces during later stages of the Wales Bill's parliamentary progress.
Mr Cairns may be able to dismiss Plaid Cymru and Labour as the usual suspects but the arguments are continuing in his own party.
'Disappointed'
In January, we reported how several Welsh Tory MPs were unhappy with the decision to scrap the requirement to hold a referendum before granting Wales some income tax powers.
There's little sign that those MPs are reconciled to the idea of Welsh income tax rates and concern over the Bill's contents runs wider. Brecon and Radnorshire MP Chris Davies says he's preparing for his first rebellion against the government: "I'm very disappointed in many aspects that there are more powers going to the Assembly. I don't think as yet after 17 years the Assembly is coping well enough with the powers that they already have.
"We're seeing such matters as education, as important as health, as agriculture, all going backwards yet here we are tomorrow going to give even more powers when they haven't quite got a handle on the powers that they have."
Mr Cairns will also face questions over his claim to have "whittled down" the list of powers reserved to Westminster. The list in the new Bill is apparently two pages longer than that in the draft version. Plaid Cymru say it also includes additional reservations that were not in the draft Bill, including the Severn crossings and the issue and circulation of money.
Tuesday's debate will focus on the general principles of the legislation, with line-by-line scrutiny to follow later.