Carwyn Jones out of touch with people, Kim Howells says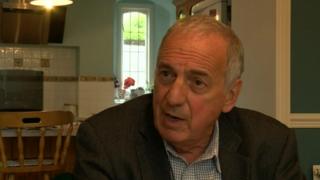 A former Labour UK government minister has said First Minister Carwyn Jones is out of touch with how most people in Wales think.
Mr Jones has suggested there could be a federal UK after the Brexit vote.
But Kim Howells said there is no justification for a constitutional "earthquake", and called the idea that Wales is isolated from Britain "nationalist claptrap".
A spokesman for Mr Jones said securing better jobs remained his priority.
Mr Jones had said: "The last thing we want is to be considered some sort of annexe to England.
"We don't have to have independence - there is a way to ensure there is some sort of federation, or some sort of agreement."
But Mr Howells told the BBC's Newyddion 9: "I don't think there's any real justification for some kind of great earthquake in the constitution."
He said there's often been times "when parts of Britain have voted differently".
When it was put to Mr Howells that a federal Britain was being advocated by Mr Jones, he said: "I think he's out of touch actually, with the way that most people in Wales think.
"He and Leanne Wood the leader of Plaid Cymru, they held an incredibly smug press conference just prior to the referendum where they said, of course Wales will vote to Remain, if England votes to Leave, we'll have to go to Brussels to negotiate some kind of a pro-EU position for Wales.
"They couldn't be more wrong. They were totally wrong."
The former Pontypridd MP added that Wales voted along the same lines as England because "there are no fundamental differences between the Wales ways works and the way England works in so many respects".
"The real shock in this is that realisation," he said, "because the whole justification of the Welsh assembly was we would be closer in touch, through our politicians, with the way people are thinking in Wales, and yet they have got it fundamentally wrong."
Mr Howells added: "The notion that somehow Wales is kind of isolated and cast off from the rest of Britain is complete nonsense.
"It's just nationalist claptrap.
"I'm very very sorry to hear people in the Labour party echoing that kind of claptrap. They ought to know better, actually."
'Real worry'
In contrast, Labour AM for Llanelli, Lee Waters, argued that Wales could be left no more important to Whitehall than a part of the English West Midlands as a consequence of the EU referendum result.
He said: "There's a real worry now of what will flow as a result of Brexit.
"It looks increasingly likely that Scotland will hold a second referendum, and a betting man will assume that Scotland will vote to leave the UK.
"It leaves Wales back as an England and Wales entity, but no more important really to Whitehall than a Greater Birmingham."
"Carwyn Jones is absolutely right to say we need some kind of stability to make sure we're not the poor relation, even more than we already are, in any new set up," Mr Waters said.
"And some kind of federalism and some kind of stability and certainty, so we can be sure that we can get a fair deal, has got to be top of the agenda."
'Priority'
A spokesman for the first minister said: "The first minister set out his views around the constitution some time ago and he hasn't changed his mind on that.
"However, our top priority remains securing better jobs for Wales - that has remained the case throughout the last term of government, the successful assembly election, and the unsuccessful referendum campaign."
A Plaid Cymru spokeswoman said in response to Mr Howells that he is "not the best placed person to say who is out of touch with the people of Wales.
"He supported the war in Iraq and was a consistent minister in the New Labour governments - governments that in fact allowed the largest regional inequality in any EU member state to develop on their watch.
"Mr Howells has always bitterly opposed Plaid Cymru so his criticism is unsurprising. However it is unseemly of him to attack his own party and first minister during the fallout of the referendum."