Cardiff councillor's 'Labour Party threats' claims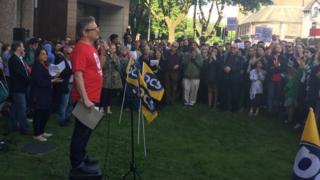 A Cardiff councillor said he has been threatened with disciplinary action by the Labour Party.
Darren Williams, a member of Labour's national executive committee (NEC), said he had been accused of photographing Welsh Labour material and sending it to the press.
Mr Williams denied any wrongdoing - and said he believed the claim was linked to his support for Jeremy Corbyn.
A Welsh Labour spokesman declined to comment.
Mr Williams replaced Ken Livingston as a member of Labour's NEC last week.
He thinks the complaint relates to a picture of "unused material" left over from Labour's campaign for a Remain vote in the EU referendum - a photo he said he did not take or leak.
"I know I didn't take the picture. I'm innocent of the charge," he said.
He was told if the allegations against him were proved true his actions could be found to be "prejudicial" to the party.