Wales Bill: Devolving speed limit powers 'could be confusing'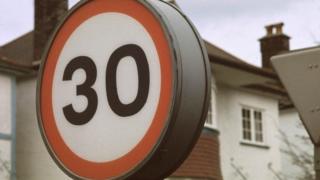 Devolving powers on speed limits and road signs to Wales could lead to "confusing conditions", a group of Welsh MPs has warned.
The three Conservatives said such a move could result in some roads weaving in and out of multiple speed limits because they cut across the border.
They want the Wales Bill amended to leave those powers with Westminster.
But Welsh Secretary Alun Cairns said devolving speed limits was a Silk commission recommendation.
Clwyd West MP David Jones told a Commons debate on the Bill: "It seems to me that the whole purpose of devolution should be not to make life more difficult, but to make life easier."
Mr Cairns said there was consensus under the St David's Day process to implement and proceed with the recommendation.
"Given that local authorities already have the power to vary speed limits, then it is a logical and sensible extension in order to give further powers to the Welsh government in this area," he said.