Theresa May given 'poisoned chalice', senior Welsh Tory warns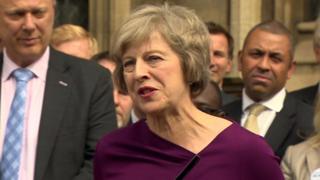 New Tory leader Theresa May is being given a "poisoned chalice" as prime minister, the chairman of the Welsh Conservatives has claimed.
Jonathan Evans said Mrs May faces an "immense challenge" and the UK is "drifting" post-EU referendum.
He also rejected calls for a snap general election, saying it would be a "cynical" move.
A Welsh Tory source said it "would be more helpful for everyone if we started embracing the opportunities".
Mrs May is set to become prime minister on Wednesday after Andrea Leadsom pulled out of the Tory leadership race.
Mr Evans, who also sits on the UK Conservative Party's management board, told the Good Morning Wales programme on BBC Radio Wales: "The country is drifting."
"What we definitely need to have is leadership," he said.
"I do not make light of the challenges that she is now going to face.
"It is a real poisoned chalice.
"It's not an accident, I think, that many people who campaigned on the other side [to leave the EU] appear to have disappeared from the field now.
"But she is in my view the biggest figure in politics in the House of Commons.
"Therefore I think it's a terrific act of public service on her part to take on this immense challenge."
Mr Evans thinks it would be wrong for Mrs May to call a snap general election.
He said: "Maybe when we have more clarity as to what our future is.
"Maybe the arguments about an earlier election than 2020 will have a little bit more resonance.
"But to say we need to have that early election now when the Labour Party apparently have no leadership at all, I think that would be a cynical thing frankly."
"There are bigger issues than whether the Conservative Party can get itself a bigger majority than 12," he added.
However a Welsh Conservative source said in response: "Actually, we need to look at this more optimistically and Wales and the UK are at a crossroads with huge opportunities ahead.
"Theresa May is perfectly placed to lead the UK forward into a new era, and instead of focusing on the negatives it would be more helpful for everyone if we started embracing the opportunities."