Gwynfor Evans portrait to be shown in Parliament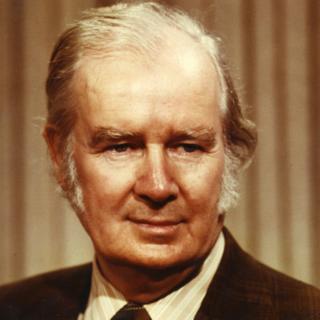 Plaid Cymru's first-ever MP is to be honoured by having his portrait displayed in the Houses of Parliament.
The late Gwynfor Evans won Carmarthen from Labour in a by-election in 1966.
Carmarthen East and Dinefwr MP Jonathan Edwards said the Speaker's Advisory Committee on Works of Art confirmed it would look to buy a portrait to mark the fiftieth anniversary.
Mr Edwards said it would ensure Mr Evans's "legacy and presence" in the House of Commons would continue.
Successes 'reverberate'
David Lloyd George, Winston Churchill, Edward Heath, Tony Benn and James Callaghan are among those whose portraits are already displayed at Westminster.
"I am delighted that the curators of the Parliamentary art collection are seeking to acquire a portrait following my representations to secure Gwynfor Evans' legacy in the House of Commons," Mr Edwards said.
"Wales as we know it would simply not exist without the efforts of Gwynfor Evans.
"His successes continue to reverberate around Carmarthenshire and Wales, with S4C - the television channel that he challenged Margaret Thatcher to establish - moving to Carmarthen."
After losing the seat to Labour in the 1970 general election, Mr Evans regained it in October 1974, serving as MP until 1979 when Labour re-took the seat.
He died in 2005 at the age of 92.