Anti-fraud body to proceed with investigation into UKIP's Gill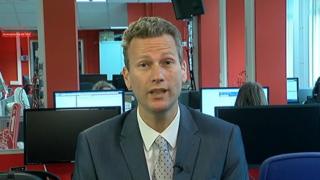 The European anti-fraud body, OLAF, is to proceed with an investigation into claims of misuse of European parliamentary funds against UKIP Wales MEP Nathan Gill.
A spokeswoman for OLAF said it has completed a "preliminary analysis" and an investigation is now "ongoing".
Mr Gill has described the allegations as "entirely bogus".
It is alleged he used European parliamentary funds for party political purposes, such as election campaigning.
In 2015, OLAF looked into 1,442 cases and opened 219 investigations. Some investigations cover several complaints in one.
'On-going'
"OLAF can confirm that, after a preliminary analysis, it is investigating allegations of misuse of European parliamentary funds by MEP Nathan Gill," a spokeswoman for the organisation said.
"However, as an investigation is on-going, OLAF cannot issue any further comment.
"This is in order to protect the confidentiality of on-going and possible ensuing investigations, subsequent judicial proceedings, personal data and procedural rights.
"The fact that OLAF is examining the matter does not mean that the persons/entities involved have committed an irregularity/fraud.
"OLAF fully respects the presumption of innocence and the rights of defence of the persons/entities concerned by an investigation."
In August Mr Gill said he was "well aware of who are behind this latest poisonous and deeply malicious attack".
In a statement he said: "Having spoken to the police, I am in no doubt whatsoever that these claims - which are entirely bogus - have been made against me as part of an ongoing strategy to harry me out of position and to damage my reputation."
He said OLAF was obliged to investigate any allegations made to it, that such cases can "drag on" and that he will "co-operate fully".
OLAF's website explains that cases are initially assessed by a special unit, before a director general decides whether to assign the case to investigators.