Leanne Wood told to 'moderate' Rhondda Welsh accent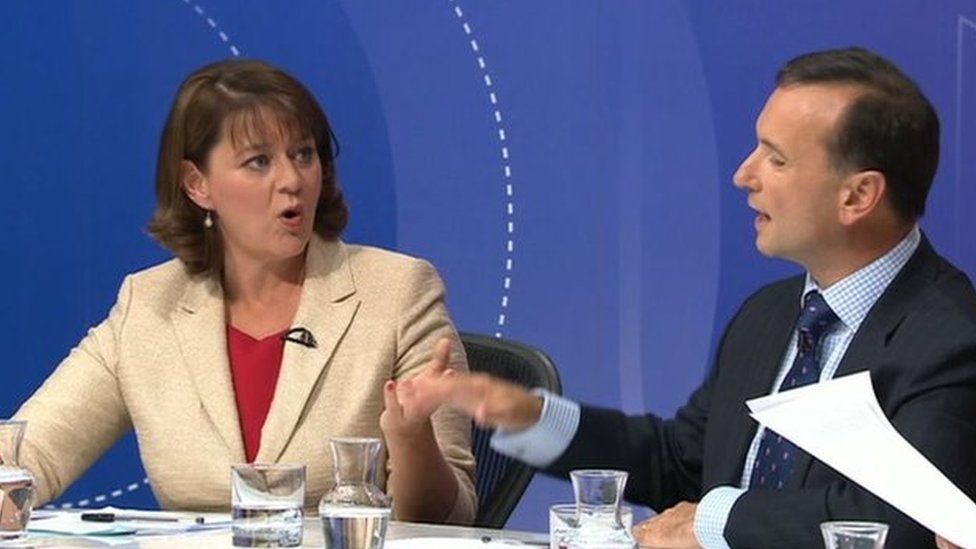 Leanne Wood has expressed her dismay after she was told in an email to "moderate" her Welsh accent in order to be taken seriously.
Ms Wood was told a broad Welsh accent "leaves Welsh people open to ridicule".
The Rhondda AM and Plaid Cymru leader said if people do not like the way she speaks "they can stick it".
It comes as ITV political editor Robert Peston told BBC Radio Wales anti-Welsh remarks were "getting worse".
Ms Wood posted the email to her Facebook page. It read: "When speaking English with a Welsh accent it can be delightful to listen to someone speaking.
"However, a broad Welsh accent as often used by Leanne Wood leaves Welsh people open to ridicule," the email continued.
"A sentence such as 'we in Waales eat caake before it becomes staale.' (SIC)
"If only Leanne Wood would moderate her accent to: "We in Wailes eat Caike before it becomes staile."
"We proud Welsh people would then need not squirm when we are listening to BBC Question Time when Leanne is on the panel."
It is not clear who sent the message.
Ms Wood, who posted the email to a Facebook page, told followers: "I'm not prepared to pretend to be something I'm not.
"If people don't like it, they can stick it."
She told BBC Wales that the email was an "example of the various prejudices and discriminatory attitudes that we face - a mixture of sexism, racism and class prejudice".
"I get abusive messages all the time," she said. "I decided to share this specific message as I saw it as a direct attack on my Welshness as well as my working class background.
"The positive reactions I have received show that this has struck a chord with many people and has encouraged me to continue to challenge this kind of discriminatory attitude," Ms Wood added.
He said: "Why do many who would hate to be called racist think it's OK to make casually nasty anti-Welsh remarks? Happens all the time. I hate it."
Asked on BBC Radio Wales' Dot Davies programme what sparked the tweet, Mr Peston said he had been at a dinner the previous night where a "very senior businessman made some remarks" about the wife of French presidential candidate Francois Fillon, Penelope, "that he thought was funny".
He said he couldn't remember exactly what was said.
"But it was really unpleasant, it was something to do with her Welshness or something," he added.
"I just sort of snapped because i just think that sort of stereotyping is hateful.
"I think it is getting worse."
Mr Peston said there were "so many people making really unpleasant remarks which are so offensive... not only offensive but straight forwardly wrong".
"It comes from ignorance as well as being unpleasant".