Landfill disposals tax bill lacks detail, AMs say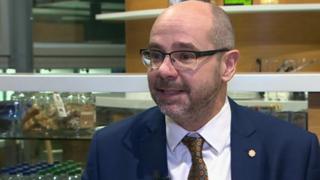 Legislation introducing a new landfill disposals tax in Wales should include more information on how the system will work, a committee of AMs has said.
The Finance Committee said details such as the proposed rates of taxation should have been provided in the bill.
Committee chairman Simon Thomas warned ministers risked reducing business confidence in the new tax.
A Welsh Government spokeswoman said it welcomed the committee's report and would respond in due course.
The tax, along with stamp duty land tax, is being devolved in April 2018.
Like the landfill tax it replaces, the new levy will be paid by landfill site operators who will pass the costs on to waste operators through a gate fee.
Public finances watchdog the Office for Budget Responsibility estimates the landfill disposals tax will raise £28m in 2017-18, with proceeds falling to £22m in 2020-21 as recycling rates increase.
Ministers have said they will provide more information on their plans later, using so called secondary legislation, but the committee is concerned that this means less scrutiny from AMs.
Plaid AM Mr Thomas said ministers were not adhering to their own principles of providing stability and reassurance to businesses.
He also said there were worries about a proposed communities scheme, to use some of the tax revenue to support community and environmental projects near landfill sites.
"Stakeholders are extremely concerned that the Welsh Government's decision to operate the scheme outside of the bill means that this funding will not be safeguarded," he said.
"We share these concerns and have urged the government to include in the Bill a statutory duty to establish a communities scheme."
The Welsh Government spokeswoman said: "We have been clear about our commitment to introduce a new Landfill Disposals Tax Communities Scheme when the tax is devolved to Wales.
"We have consulted extensively with stakeholders about the scheme's development and continue to do so."
The Finance Committee report was published as ministers announced a £6.5m fund, beginning in 2019, to help small and medium-sized firms recycle and reduce waste.
Environment Secretary Lesley Griffiths said the Circular Economy Investment Fund would encourage businesses to keep resources in circulation rather than burning them or putting them in landfill sites.