Assembly to hold debates on petitions over 5,000 names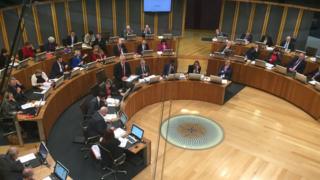 Any petition submitted to the assembly of 5,000 signatures or more will now be automatically considered for a debate under new procedures.
For some time the public has been able to submit petitions to a specialist committee of AMs.
But AMs have now made changes to try to improve how the process works - including a rule that petitions of fewer than 50 names will be ignored.
It is hoped the new higher threshold will boost the system's integrity.
Under the previous regime petitions were generally only examined by the petitions committee, which has the power to request more information from a minister or take more evidence, if they felt the issue warranted it.
But since it was established Westminster has gone one step further, triggering debates held by MPs if petitions receive 100,000 signatures or more.
A proposal to do the same in Wales was originally proposed in a review of petitions in 2016 - although the threshold for the assembly will be much smaller.
Large petitions are now likely to trigger debates - but smaller ones could be too if AMs want one to take place.
Under other changes only people resident in Wales, or organisations with a base in Wales, should be able to submit petitions to the assembly.
But there will be no restrictions on those who want to sign them.
Previously very small petitions of as few as 10 signatures could be put before the committee.
One recent effort called for Cardiff Airport to be renamed in memory of Princess Diana. The committee sought a response from Cardiff Airport, despite the fact it only had 16 backers.
Mr Hedges said: "The changes the assembly has voted for will mean petitions with a lot of support behind them can be quickly considered and debated by the full assembly.
"The other changes we have made will ensure the integrity of the petitions system while protecting its openness."