Welsh Government restructure not ruled out, Shan Morgan says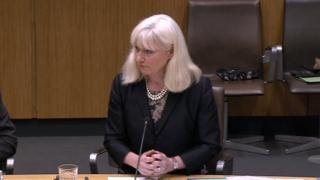 The Welsh Government's new top civil servant has told AMs she is not ruling out a restructure of the organisation.
Shan Morgan is weeks into her job as permanent secretary, the most senior member of the Welsh civil service.
She told an assembly committee the current senior management structure was established before the vote for Brexit.
The former diplomat said she was assessing whether the government had "the skills and the capability to deliver what we need to deliver".
Ms Morgan was speaking to the public accounts committee for the first time in her new role, replacing Sir Derek Jones who retired in February.
She worked previously as British ambassador to Argentina and Paraguay, before serving as the UK Deputy Permanent Representative at the European Union.
'An opportunity'
"I'm not going to rule out restructuring", she told the committee in response to a question from Labour AM Rhianon Passmore.
The last restructure of senior management took place in 2015. Ms Morgan said two years from then was "probably not a bad time to have another look at whether the organisation is delivering what we need".
That structure had been established in advance of the vote for Brexit, she said.
"It seems to me that there is an opportunity in the autumn to review the structures", she said, adding she would not impose "change for change's sake" and said the organisation felt like one that worked "well".
'Capability'
Ms Morgan suggested there would need to be a shift in resources within the government as a result of Brexit.
Asked by Labour AM Lee Waters whether the government had sufficient capacity to deal with the process of leaving the EU, she said she was currently assessing whether the organisation "has the skills and the capability to deliver what we need to deliver".
"I need to be very clear about what are the skills and capabilities we need [and] where are they," she said.
"If they are not where they should be, how can I put them there, and how can I train and retrain the staff that we have to meet the needs of probably a rather different kind of future.
"I think we will need more people with policy skills than we have at the moment," Ms Morgan added.
"We do a lot more delivery than deciding our own policy."
However, she said she would "not be making plans to expand the number of staff working in the Welsh Government," saying they were not in that kind of "resource climate".