Rule-breach questions over McEvoy Senedd press conference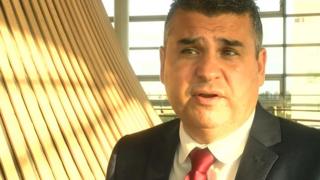 Questions have been raised over whether suspended Plaid Cymru AM Neil McEvoy broke assembly rules by using a Senedd room for a council election press conference.
The AM for South Wales Central unveiled seven pledges for the local elections to journalists on 5 May.
The Tories have asked the presiding officer to decide whether it was "an abuse of public resources".
Mr McEvoy suggested he wanted to pay for the use of the room.
The assembly said it was already looking into the Tuesday morning meeting.
Mr McEvoy is serving a one-month suspension as a Cardiff councillor after a tribunal ruled a comment he made about restructuring the authority to an official amounted to bullying.
The AM, who is also group leader on Cardiff council, has also been suspended from Plaid's assembly group.
'Strictly forbidden'
An assembly spokeswoman said: "Assembly officials are looking into the events described in accordance with our processes and policies."
In a letter to Presiding Officer Elin Jones, Tory AM Janet Finch-Saunders said: "It is my understanding that using the Assembly estate for campaigning purposes is strictly forbidden and, as such, I am writing to ask you formally to investigate the event in question.
"In particular, I am seeking your judgement as to whether Mr McEvoy event constituted an abuse of public resources, given its nakedly partisan nature."
Mr McEvoy said: "I asked to be invoiced for the room, so I'm hiring the assembly's facilities.
"If I've paid for the room I don't see what the problem is with handing out a sheet of paper."