Local elections: Nominations close for May poll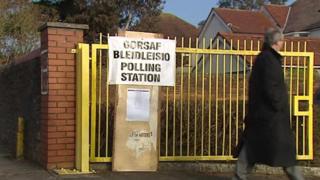 Nominations for May's local elections in Wales have closed.
More than 1,200 seats will be available across 22 local authorities in Wales on Thursday 4 May.
With 580 councillors, Labour is defending the most seats. Plaid Cymru has 170, the Conservatives 104 and the Liberal Democrats 75.
The results are due from the early hours of Friday morning. There are 13 overnight counts and nine the next day.
In terms of councils, Labour has a majority on 10 local authorities and leads two others as the largest group.
Plaid Cymru has a majority on one local authority and leads two others as a minority administration.
The Conservatives run one council with Liberal Democrat help.