Beauty spots should have bigger role, report concludes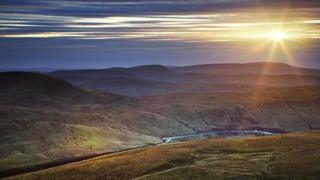 National parks and protected beauty spots should take the lead in managing natural resources in their areas of Wales, a review has recommended.
The Future Landscapes Working Group was responding to a 2015 study's call to promote "vibrant rural communities".
The group stresses the importance of joint working to help develop business, jobs and affordable housing.
Three Welsh national parks and five Areas of Outstanding National Beauty cover a quarter of Wales' land mass.
The working group was chaired by former Plaid Cymru leader Lord Elis-Thomas, now an independent member of the Welsh Assembly.
"From the start the main feature of the working group was partnership, including everyone from national park authorities and areas of outstanding natural beauty, from agricultural and tourism businesses, voluntary organisations and trusts contributing equally to the discussions," he said.
"The basic principle guiding our work is seeing and understanding the role of designated landscapes not as separate excluded areas, but as a distinctive part which could contribute to good practice for the rest of our country's landscape."
The Welsh Government, which was represented on the working group, will now consider whether legislative changes are needed to back the recommendations.
Environment and Rural Affairs Secretary Lesley Griffiths said it was "so important we are making the most of our iconic landscape".
"There is much we can learn from each other as we navigate our way towards a future outside of the EU," she said.
Analysis from Steffan Messenger, BBC Wales environment correspondent
A panel of experts has been looking at the fine balance of how to make Wales' three national parks and five areas of outstanding natural beauty engines of economic growth but at the same time protecting them for future generations.
They want much more partnership working across the parks themselves but also with Welsh Government and Natural Resources Wales. They need to be working with landowners and farmers to drive this green growth agenda, with talk of green apprenticeships.
Perceived barriers around renewable energy schemes also need to be addressed, while the national parks also need to work with Visit Wales to create a stronger brand to attract visitors from around the world.
The Welsh Government will have to look at creating new laws for some of this but Brexit could provide an opportunity - as lots of the environmental laws that have previously had their roots in Brussels are handed down.
Wildlife and conservation groups however will be watching all this really closely. They will maintain that national parks should never lose sight of their core purpose, which is protecting the landscape and the stunning views which so many enjoy.