Swansea tidal lagoon receives Lib Dem election pledge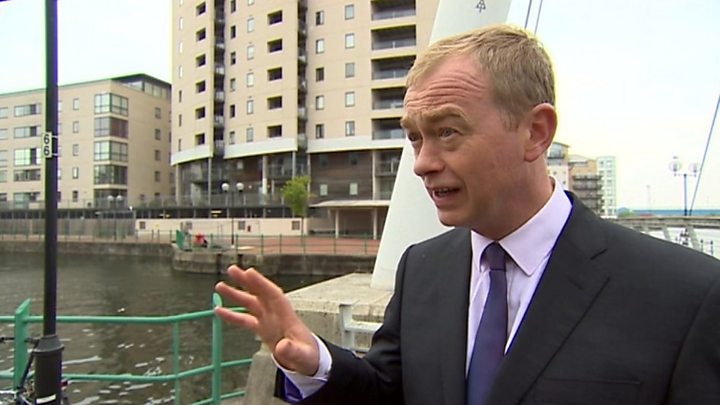 Plans for a Swansea Bay tidal lagoon would be approved by the Liberal Democrats immediately, the party said as it launched its general election campaign in Wales.
The scheme's developers say electricity generated by the six-mile lagoon would power 150,000 homes for 120 years.
Ex-Lib Dem Energy Secretary Sir Ed Davey accused Conservative ministers of delaying the project for too long.
A government-commissioned review backed the £1.3bn lagoon scheme in January.
Ministers would have to agree a deal on the level of subsidy required for the energy generated and a marine licence would also need to be approved.
The Swansea Bay project, involving 16 turbines along a breakwater, is seen as a prototype for much larger lagoons.
These could include one off the coast of Cardiff - east of Cardiff Bay - Newport, Bridgwater Bay in Somerset, Colwyn Bay and west Cumbria, north of Workington.
The Lib Dems said more than 30,000 jobs could be created across Wales by the schemes.
Sir Ed said tidal lagoons were "vital for creating Britain's low carbon future and will provide extremely reliable and consistent energy for at least 120 years".
"Liberal Democrats would go ahead immediately with the lagoon at Swansea Bay and start planning for further lagoons in Wales and other parts of the UK," he added.
In January, current Energy Secretary Greg Clark said ministers would consider the recommendations and "determine what decision is in the best interests of the UK energy in the long term".
'Taken for granted'
The Liberal Democrats are aiming to reverse their decline in the polls next month, after losing two of their three MPs in Wales at the 2015 general election.
In last week's local elections the party lost 11 Welsh council seats and now has 62 councillors in Wales.
Welsh Lib Dem leader Mark Williams was joined at the campaign launch in Cardiff by UK party leader Tim Farron, who warned Wales would suffer if Mrs May won a big majority on 8 June.
"If the Tories get a landslide, Wales will be taken for granted," he said.
"It is time that we gave the people of Wales, the people of the United Kingdom some hope.
"Wales, like other parts of the country, remembers what it was like to live under a Conservative government with a landslide majority in the 1980s," Mr Farron added.
Sorry, your browser cannot display this content.