Election battle buses take centre stage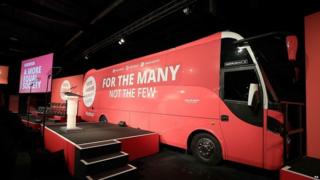 Labour parked an election battle bus on the stage at its UK campaign launch in Manchester yesterday while Tim Farron fell over on his bus live on Sky News, guest blogger Carl Roberts writes.
Today's top election story involves the use of the Conservative battle bus in the 2015 general election.
You know what it's like, you wait ages for a battle bus story and then three come along at once.
The Crown Prosecution Service has said today that although there was evidence of inaccurate spending returns in constituencies in 14 police force areas the evidence didn't meet the test for further action.
It was alleged the Conservatives spent tens of thousands of pounds on local campaigns - including on "battle bus" visits by activists - which were either not declared or were wrongly registered as national spending.
Also yesterday we heard about Hayley Cropper - aka the actress Julie Hesmondhalgh introducing Jeremy Corbyn to the stage - the comedian and Labour supporter Eddie Izzard has been in Cardiff Bay today to add his support to the party.
While candidates in the election are out campaigning and knocking doors assembly members are in Cardiff Bay rather than out and about on the well worn election campaign trail.
Plaid Cymru AMs have decided to do some campaigning in the Senedd seeing as they are stuck there as assembly business continues throughout the campaign.
The party held a debate this afternoon to "send a message to Westminster that the Welsh NHS is not for sale".
Labour and the Lib Dems are concentrating on education today - but their policies will only directly affect education in England as the Welsh Government - led by Labour with the help of a Lib Dem education secretary.
The Lib Dems would spend £7bn to protect per-pupil funding, to be partly funded by staying in the EU single market the Welsh Lib Dems say that would mean £330m extra for the Welsh Government.
Labour has promised to spend £4.8bn a year to keep up with rising costs and £335m so no school loses from a change to the school funding formula in England.
The Welsh Government would receive money as a consequence of that spending on a devolved area, Labour haven't worked that out yet - but I have roughly £250m.
UKIP leader Paul Nuttall admitted on the BBC's Daily Politics programme that he knew the local election results would be bad for his party.
Mr Nuttall launched UKIP's "one in, one out" immigration policy earlier this week - inspired maybe by the council election result which was one in and 145 out - that's how many seats they lost in England and Wales.
He did, though, say that he thought the party's future was bright.
Finally, the BBC news website has revealed who is the most googled political party leader in each constituency in the last six months.
Mr Nuttall topped that poll in the Dwyfor Merionnydd, Carmarthen East, Carmarthen West and Delyn.
And who topped that particular poll in the Pontypridd constituency, I hear you ask?
The answer is Nicola Sturgeon, I'll leave you to ponder that one.....