General Election 2017: Wales number of candidates drops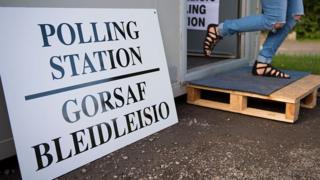 The number of candidates standing in Wales at June's general election has fallen by more than a fifth compared to the contest in 2015.
A total of 213 candidates are standing for Wales' 40 constituencies, compared to 275 two years ago.
Parties who stood in 2015, including the Trade Union and Socialist Coalition (TUSC) and the Communist Party, are not fielding candidates this time around.
The proportion of female candidates has increased to 31%, from 26% last time.
Labour, the Conservatives, Plaid Cymru and the Liberal Democrats are standing in all 40 seats.
There are 32 UKIP candidates and 10 from the Wales Green Party.
All 40 Welsh MPs from the last parliament are standing again.
The deadline for nominations passed at 16:00 BST on Thursday.
Sorry, your browser cannot display this content.