Election 2017: Plaid Cymru manifesto at-a-glance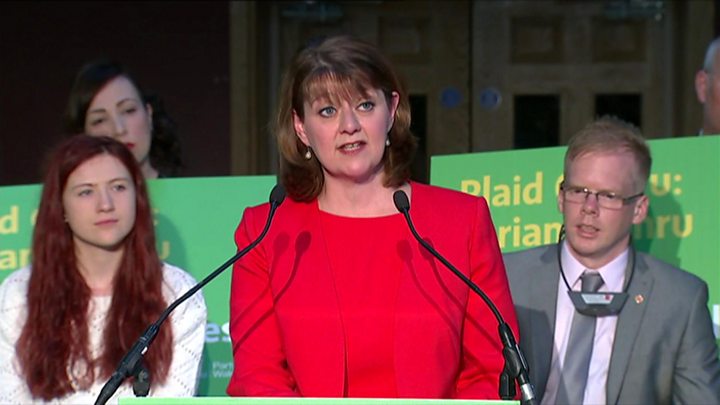 Plaid Cymru has launched its manifesto for the 2017 general election. It is available online here. Here is a guide to the 52-page document.
---
Key message
Plaid Cymru says that Wales faces "grave risks" at the general election, claiming the nation is "under threat from the cruel and reckless Tories".
It says that Labour is weak and divided and is not able to offer opposition to the Conservatives.
Plaid Cymru's "Action Plan 2017" pitches to fight for the best possible Brexit deal for Wales' industry and agriculture.
The party says Wales' economy, identity and its devolved legislature - the National Assembly for Wales - need protecting from a Conservative power grab.
---
Key policies
There is a big Brexit focus in the document. The party says it will:
ensure that Wales can continue to buy and sell to Europe without any costly barriers
secure the money promised to Wales by the Leave campaign, and not accept a penny less
insist that all future trade deals are endorsed by the National Assembly for Wales
guarantee the rights of all Europeans currently living and working in Wales
---
Economy
The party says it will:
introduce a £7.5bn investment programme to fund vital infrastructure projects throughout Wales
end the business rates system, moving towards a turnover-based system
target tax discounts for new and existing businesses in Wales as a central part of new UK regional policy
open a publicly owned bank
demand "stringent" anti-dumping measures on steel
continue to oppose the centralisation of tax offices in Wales
introduce a fuel duty regulator to stop rising fuel costs
---
Health and social care
Both these issues are devolved to the National Assembly for Wales and the Welsh Government.
However, the manifesto commits Plaid Cymru to:
a social care rescue plan to help people live independently and increase the role of community hospitals
a "carers contract"
training 1,000 extra doctors and 5,000 more nurses in the next decade
saving 10,000 lives over 10 years through a range of measures, from public health actions and promoting individual lifestyle changes
ensuring earlier diagnosis of disease and better access to life-saving treatments
give veterans "the support they deserve and need" with "excellent health care, including mental health care, and adequate housing"
---
Justice and policing
The manifesto says Plaid Cymru would:
block the development of the Port Talbot super prison
secure an extra £25m for Welsh police forces
guarantee Wales gets the police force it needs with decisions about crime and justice made in Wales for Wales
reverse cuts to legal aid and bring forward new laws to protect victims of crimes such as rape and domestic abuse so they can give evidence in court without being intimidated
create a Welsh legal jurisdiction that ensures a justice system that reflects the needs of Wales
publish a human rights charter for Wales to defend Welsh people against the backdrop of a Tory government intent on undermining the Human Rights Act
---
Education
Control over education is also devolved to Welsh institutions. Plaid Cymru says it would:
provide free full-time nursery places for all three year olds
raise education standards by pledging to pay teachers a more competitive salary
improve teachers' training to allow them to reach higher qualifications and perform better
provide an incentive for students who remain or return to live and work in Wales after graduating
guarantee employment, education or training for any person under-25 looking for work
set up a network of specialist National Colleges of Vocational Education, for 14+ and post-compulsory
increase the availability of Welsh language education from nursery, to FE and HE right through to adult learning
---
Pensions and social security
Plaid Cymru wants to see powers over social security devolved to Wales. It also pledges to:
ensure a Living Pension for all
fight to guarantee the Triple Lock.
commit to scrapping the bedroom tax
support and encourage disabled people into employment without facing threats of sanctions
fight to keep job centres open
oppose increases in the state pension retirement age
call for an independent review into the Mineworkers' Pension Scheme surplus
---
Infrastructure and Tourism
Policies in the manifesto included:
a Wales-wide transport system
re-opening of the Carmarthen-Aberystwyth railway
improved Valleys line train services
improvements to the A55 in north Wales
the expansion of the Traws Cymru bus network
a commitment to making ultra-fast broadband available to all of Wales
rolling out 5G mobile signal nationwide
double the funding for Visit Wales and cut tourism VAT
increase energy generation from renewables
delivering tidal lagoons in Swansea Bay, Cardiff and Colwyn Bay
create a Welsh energy company to use profit from Welsh resources to cut the cost of energy for Welsh consumers
---
Rural Wales and the environment
The manifesto says Plaid Cymru would:
roll out a nationwide scheme to make housing stock more energy efficient
secure compensation for those who suffered from badly installed, government backed cavity wall installation
update and consolidate Welsh wildlife legislation, creating a new Wildlife Act for Wales
introduce a new climate change act, adopting ambitious but achievable greenhouse gas and pollution targets for 2030 and 2050
reduce plastic waste with a deposit return scheme
fight to ensure every penny of European Union funding is replaced by the UK government
fight to reform the Red Meat Levy so that £1m of lost funding for Hybu Cig Cymru stays within Wales
oppose the construction and use of pylons through National Parks and areas of outstanding natural beauty
---
International affairs
Manifesto promises include:
oppose military action without UN and Parliamentary authority
scrap the Trident nuclear weapons system and resist any attempts to relocate it to Wales
maintain the 0.7% of GDP commitment on international aid and fight for the Dubs amendment, helping unaccompanied refugee children into the UK, to be upheld
---
The constitution
The manifesto says that it remains Plaid Cymru's ambition for Wales to become an independent nation "standing on its own two feet".
But the document says this election is about an "immediate threat" to Wales. The document commits Plaid to:
giving the National Assembly for Wales the powers it needs to properly represent the people who elect it
demanding fair funding for Wales by pushing for a new independent commission to oversee an agreed way of redistributing funds across the UK, based on a needs-based formula
granting 16 and 17-year-olds the right to vote and reform the voting system so that it is more representative
continue to oppose plans to spend £5bn on renovating the House of Commons and £400m on Buckingham Palace
---
What are other parties saying?
Labour's Christina Rees: "The simple fact remains that this general election is a straight fight between Welsh Labour and the Tories. Leanne Wood knows her party cannot win the election, and a vote for Plaid Cymru could help hand victory to the Tories."
The Welsh Conservatives' Andrew RT Davies: "Plaid Cymru's manifesto talks spiritedly about seizing opportunities, but neglects to mention how many opportunities for change they have simply frittered away by propping up Labour again and again."
The Welsh Liberal Democrats' Mark Williams said: "This election is about the type of country we want to be. Who says you have to settle for Theresa May's cold, mean-spirited country? The Liberal Democrats are making the case for an optimistic, hopeful and tolerant country."
A UKIP Wales spokesman said: "Plaid Cymru continues to fail to acknowledge that Wales voted to Leave the European Union, and fails to respect the wishes of the Welsh people... Having UKIP MPs in the House of Commons will ensure Wales gets the best possible deal from Brexit."
---
What is devolved and what is not? What will it cost?
In common with other past Welsh general election manifestos from across the political divide, Plaid Cymru has produced a wide-ranging manifesto that includes policies that concern issues devolved to the National Aseembly for Wales.
Broadly, AMs and Welsh ministers have control over health, education, some elements of tax such as business rates, agriculture, tourism and most transport issues.
It is MPs that take decisions on most taxes, international affairs, justice and policing, benefits, pensions, defence and the constitution of the country.
Plaid Cymru only stands MPs in Wales and could not form a government alone - if it was to see its policies implemented in Westminster it would need make arrangements with a larger party.
Full costings have not been made available to the media - however the party says the manifesto is fully costed.