Ask the Leader: UKIP in Wales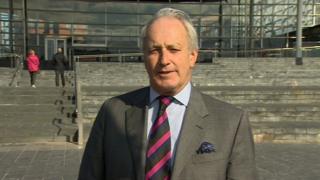 An Ask the Leader debate featuring UKIP's assembly group leader Neil Hamilton has been postponed after a suicide bomber killed and injured a number of people at a concert arena in Manchester.
Mr Hamilton had been due to face questions from an audience in Bangor in the second of a daily series of live BBC TV election specials on BBC One Wales.
Who is he?
Neil Hamilton was born in Monmouthshire in 1949 and spent most of his childhood in Carmarthenshire.
His father was a mining engineer and took part in the rescue effort at the Aberfan disaster of 1966 in which 144 people died, most of them children.
He studied economics and politics at Aberystwyth University and went on to become a barrister.
Mr Hamilton served as Conservative MP for Tatton from 1983 to 1997. Anti-EU, he gained a reputation for being an outspoken MP and was a minister in John Major's government.
He lost his seat in the 1997 general election to the independent challenger, Martin Bell, following the "cash for questions" scandal.
While away from politics, along with his wife, Christine, Mr Hamilton has appeared on many celebrity TV and radio shows, including Have I Got News For You?
Mr Hamilton made his political comeback in 2016 when he was elected to represent the Mid and West Wales region in the Welsh Assembly, where he leads a group of five AMs.
He has been a controversial figure in the assembly, calling two female AMs "political concubines" in First Minister Carwyn Jones' "harem".
Mr Hamilton also apologised after complaints that he told an opposition AM that "suicide was an option" after she said how disappointed she was with the referendum vote for Brexit.
Expert view - from Nye Davies of Cardiff University's Wales Governance Centre
If the latest polling data is anything to go by then we are about to witness one of the quickest declines a political party has faced in recent times.
In the 2016 Welsh Assembly election, UKIP won 12.5% of the constituency vote and 13% of the regional vote.
For the upcoming election, polling data from the Wales Governance Centre puts UKIP on 5%. This is an 8% drop from opinion polls in January, a remarkable decline in such a short amount of time.
With UKIP voters seemingly moving in their droves to the Conservatives as Theresa May asks for a "strong hand" in Brexit negotiations, it is difficult to see what the party can offer.
UKIP's entire purpose has been to campaign for the UK to leave the EU - now that this is happening, what else does the party offer?