Welsh Labour's Jones claims 'nasty' Tory party is back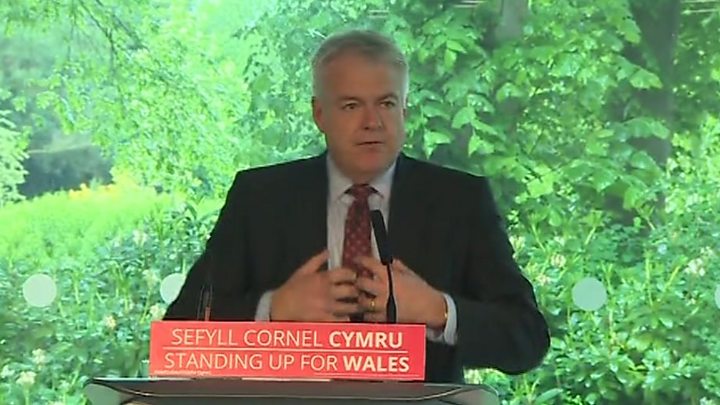 The "nasty" Conservative party is back, First Minister Carwyn Jones said as he launched Labour's Welsh manifesto.
He said Tory MPs in Westminster would be "a parliament of sheep in blue rosettes".
Pledges in Labour's manifesto included around £1.5bn extra for Welsh public services and support for the Swansea Bay tidal lagoon.
The launch in Flintshire came as Theresa May launched the Welsh Conservative manifesto in Wrexham.
"The nasty party is back, and how," Mr Jones said of the Conservatives in a speech to Labour party activists at Coleg Cambria in Northop, in Delyn constituency.
He criticised the Tories' proposed policies on social care in England, which Labour has labelled a "dementia tax", claiming people will be forced to sell their homes to pay for care.
Mr Jones said the message to older people was that "the Tories are taking you for granted - they think you are in the bag".
Pledges in the Welsh Labour manifesto include:
support for the Wylfa Newydd nuclear plant on Anglesey
give control of police to the Welsh Government
support for tidal lagoons - including Swansea
give Wales the same amount of economic aid post-Brexit
work with Welsh Government to scrap Severn bridges tolls
Meanwhile a new Welsh YouGov poll on Monday suggested support for Labour in Wales has risen to 44%, up nine points from the last poll two weeks ago.
The ITV Wales/Cardiff University poll also suggests that the Conservatives are down seven points to 34%. Plaid Cymru is down two points to 9%, the Liberal Democrats are down one point to 6%, and UKIP is up one point to 5%.
Welsh Labour has so far been attempting to run a largely separate election campaign from the UK party, fronted by First Minister Carwyn Jones rather than UK leader Jeremy Corbyn.
Mr Jones said: "Our manifesto is an ambitious, comprehensive plan of what Welsh Labour can do, together, working in the assembly and Westminster."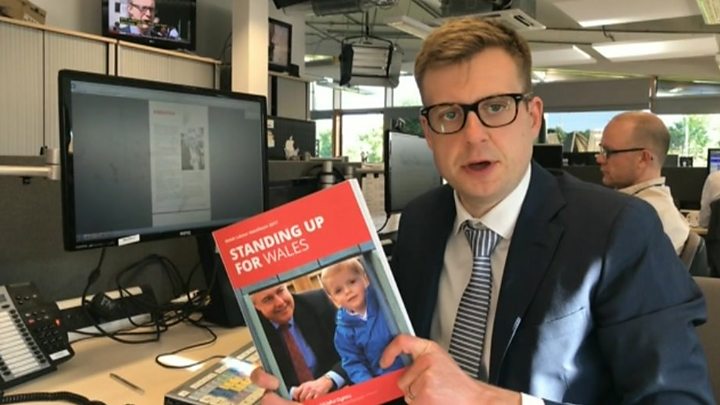 Admitting that North Wales was an election battleground Mr Jones read a list of pledges for the region, including £50m for the first phase of the North Wales Metro.
He added: "Welsh Labour will commit to protecting the funding that would have come to Wales through the EU.
"That money will be spent in Wales, and on Welsh priorities, and not stashed away in Whitehall as the Tories now threaten."
The first minister said a Labour government at Westminster would ensure an "estimated £1.5bn extra" will come to Wales every year.
The general election manifesto says Welsh Labour will also work with a UK Labour government to abolish the Severn bridges tolls and hand over responsibility for policing from Whitehall to Cardiff.