General election 2017: Welsh Labour manifesto at-a-glance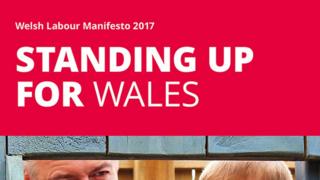 Welsh Labour launched its Welsh general election manifesto in the battleground seat of Delyn
The document, which is 113 pages long, presents a flavour of the Labour manifesto with a cache of local policies included.
With Labour leading the Welsh Government it also reinstates existing policy in Cardiff, with some pledges from the assembly election last year included.
You can read more about Labour's pledges to the whole UK here. This guide looks at what is put on offer specifically to Wales.
---
Key messages
"Welsh Labour is in power in Wales and we want to establish a real partnership with a UK Labour government," the document says in its forward.
The manifesto says: "This is not the Brexit election."
It claims that Wales needs "a strong Labour Government and a big Welsh Labour team in Westminster fighting for the causes that matter - we're the only ones that can take them on".
---
Key pledges
support for the Wylfa Newydd nuclear plant on Anglesey
around £1.5bn extra for Welsh public services
give control of police to the Welsh Government
support for tidal lagoons - including Swansea
give Wales the same amount of economic aid post-Brexit, until 2020
work with Welsh Government to scrap Severn bridges tolls
---
Economy
The manifesto:
promises UK Labour will work with Welsh Labour to "make real our shared aim of Better Jobs Closer to Home"
says that the Welsh Government will work with UK Labour colleagues to ensure Wales gets its fair share of research and development funding
pledges Labour in Cardiff will introduce a permanent small business rates relief scheme in 2018-19
---
Transport and Infrastructure
Many aspects of transport such as road building, with the notable exception of railway infrastructure, are devolved in Wales.
The manifesto says that a UK Labour government would complete the electrification of the Great Western main line to Swansea and work with Labour in Cardiff to set a clear timetable for the electrification of the North Wales main line.
It also says that Labour UK ministers would complete the High Speed 2 line from London to Birmingham to Leeds and Manchester, ensuring there are "effective links into North Wales" to benefit the economy.
UK Labour would work with Welsh Government to scrap tolls on the Severn bridges, the party says.
The manifesto also:
says Labour has an "ambitious plan" for new infrastructure, restating the Welsh Government's plans and proposals for the M4 relief road, improving the A55 in North Wales and South and North East Wales Metros
pledges that UK Labour will work with the Welsh Government to improve mobile internet coverage and expand provision of free public Wi-Fi
---
Health and social care
The NHS is a sector almost wholly devolved to Wales' assembly and government.
The section in the manifesto largely restates existing policy in Cardiff Bay - claiming that Welsh Labour has "defended the Welsh NHS from Conservative attacks and from a disruptive top-down reorganisation".
It says the party has increased the number of nurses, doctors, consultants and GPs caring for patients.
Labour says Wales is spending £160 more per person on health and social services combined than in England.
Labour says it will take action to end zero-hours contracts in social care, and says that in Cardiff it has protected social care funding "helping Welsh councils to avoid a social care crisis".
---
Education
Like health, the manifesto's pages on Welsh education largely outlines existing Welsh Government policy.
Labour leads the government but the current education minister is a Liberal Democrat - Kirsty Williams.
The manifesto says that, under the Carwyn Jones' leadership which began in 2009, there is "new momentum in Welsh education", claiming "GCSE results are the best ever, the attainment gap is closing and our apprenticeship system is delivering the skills businesses and our economy need".
The manifesto reiterates the Welsh Government's intention to begin trailing 30 hours of free childcare a week from September, and says it will fund lunch and fun clubs across Wales over the next three years to "end the spectre of children going hungry".
It reiterates an outstanding pledge to create 100,000 all age-apprenticeships across Wales by the end of the assembly term.
The manifesto also spells out the current policy to end grants that cover the bulk of tuition fees and replace it with help for living costs.
UK Labour's pledge is to end tuition fees, however. The document says: "When a Labour Government is elected at Westminster we will undertake a further review of the impact of any changes made in England on universities and students in Wales."
It says Welsh Labour has "always been clear" that there should be no tuition fees "if funding allowed".
---
The Constitution and Brexit
The manifesto says Labour would:
bring forward legislation to make the devolution settlement more sustainable, as set out by the Welsh Labour Government in its previously published Alternative Wales Bill
devolve policing
promises a long-term reform of how the UK allocates public expenditure to ensure that it reflects the needs of different parts of the UK and that no nation or region of the UK is disadvantaged
establish a Constitutional Convention to examine and advice on reforming the way Britain works
give a meaningful role to Parliament and the Welsh Government through the Brexit negotiations
have a presumption of devolution where powers transferred from the EU will go straight to the relevant region or nation
---
Housing
Housing policy is devolved in Wales.
The manifesto says Labour in Cardiff will build a further 20,000 affordable homes in Wales, including 6,000 through Help to Buy Wales, and 1,000 through a rent-to-home scheme.
The party had pledged itself to the 20,000 figure at the last assembly election.
Welsh Labour also promised to act to ban lettings agents' fees for tenants. Welsh Labour ministers have been under pressure from their own backbenchers for the measure after plans were announced to do the same in England and action was taken in Scotland.
---
Others
The manifesto also:
promises Welsh Labour in Cardiff will work to mitigate the impacts of the "Conservatives' damaging welfare policies"
reiterates a plan for the Welsh Government to cover the cost of child burial fees
says tourism in Wales - the promotion of which is devolved - is a "big success story"
promises Labour in Cardiff will consult on proposals for a "clean air zone framework for Wales"
states the Welsh Labour Government takes a zero-tolerance approach to anti-Semitism
promises a "full spending review" in Cardiff with a Labour government in Westminster