Manchester attack: Lib Dem candidate sorry for Facebook post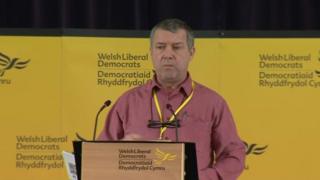 A Liberal Democrat councillor and parliamentary candidate has apologised for a Facebook post made in the wake of the Manchester suicide attack.
Mike Powell's now-deleted message said Labour and Tory supporters were complicit in "why so many deaths lie at the feet" of their parties.
The candidate for the constituency of Pontypridd said he made the statement in anger.
A Lib Dem spokesman said Mr Powell did not stand by his comments.
Salman Abedi killed 22 people and injured 64 when he blew himself up at the Manchester Arena on Monday night.
Mr Powell's original post said: "I wonder if any UK resident will ask a Syrian child refugee what their take is on the terrorists attack in Manchester?
"Can't wait for the Labour and Tory supporters to pour their hearts out at the losses of life yet ignore their complicity in the reasons why so many deaths lie at the feet of the political party they still support."
The Rhondda Cynon Taf councillor for the Trallwng ward said: "After the huge wave of sadness passed over me at the news of the shocking terrorist attack in Manchester last night it was followed by one of anger.
"That anger led me to post a thread that was both hasty and ill-considered. I sincerely apologise for any distress it has caused.
"As the father of a young daughter, I can only imagine the grief of those affected. My thoughts are with the families of the victims affected by this horrific attack."
Mr Powell told BBC Wales he was "absolutely distraught of the news" of the attack.
"I've got a six year old daughter myself. We went out to a concert last week," he added.
Asked to explain what he meant by the comments claiming that deaths lie at the feet of Labour and the Conservatives, he declined to comment further.
A Liberal Democrat party spokesman said: "Mike Powell has made a formal apology for this ill-considered comment.
"He is very sorry for any distress he has caused and does not stand by these comments in any way."